Yacine Merzouk
Yacine has been a tabletop and strategy game enthusiast and designer since high school.
This hobby culminated into a few years running an award-winning D&D blog, the publication of 2 RPG books, and a stint freelancing for Wizards of the Coast.
From there, it was a natural jump to take these storytelling skills to the escape room and game subscription box worlds.
He enjoys long walks on the beach with his dog and generally has a tendency to adopt too many pets from the Humane Society.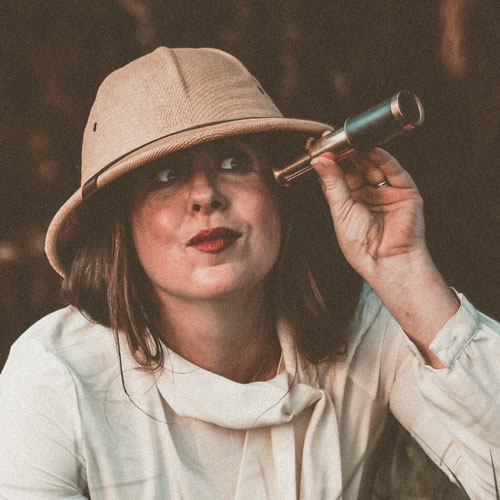 Michelle Rundbaken
Michelle is a master storyteller and the driver of the artistic vision for our mystery subscription box — always polishing minute details of the stories and adventures she designs for her audience.
She channels her background in psychology, education, and film to craft delightful experiences and puzzles that are challenging but never overstay their welcome.
Four years of escape room design taught her there's always room for a sprinkling of magic and delight.
Her ideal day consists of reading in bed with a steaming cup of tea. Cuddling a cat is a bonus.
Our Story
We got into the game and puzzle industry the old-fashioned way: by accident!
We played an escape room in 2015 in Montreal and loved it. So we played a few more. Soon, we were designing puzzles and building full-scale escape rooms for our friends in our home and 30-foot airstream trailer.
Eventually, Michelle made the suggestion to go commercial and open a physical escape room business. Yacine didn't think it was such a great idea but agreed to set up a fake website with fake escape games "to prove her wrong".
Of course, she was right.
Within a few days, people were finding the fake website and trying to book our fake escape games! Fast-forward a few months and Kauai Escape Room opened its doors.
Over the last 5 years we have designed, built, and shared more than 10 games with our tiny island in the middle of the Pacific, but we've been longing to share our games and stories with more people. We are now bringing our games and adventures to your door as a mystery subscription box. We hope you'll have a blast playing them!
Our Design Principles
We want to tell a story and take you on a journey.
We believe that puzzle games, subscription boxes, and escape rooms are a new storytelling medium. We strive to craft games that are more than a collection of puzzles.
Here are the game design principles that drive us:
Details matter. We are telling a story. You are a character in that story. Whenever we craft a puzzle or challenge we ask ourselves: Why? How does this make sense in the story? Why would someone leave clues behind that would allow you, the player, to swoop in and solve the puzzle?
Puzzles must make sense, whether you solve them on your own or not. Games should be challenging: that's what's fun and different about this hobby! But whenever a player decides to take a hint because a puzzle stumped them, their reaction should be "of course!" or "that makes sense!" rather than "I would never have figured this out". Fairness is what makes a puzzle enjoyable whether you solved it on your own or got help along the way.
It's real! We are taking you on a journey into our world. We do a ton of research that never makes it into the game, but our characters will be fleshed out and our story timelines will approximate real-world ones.
Delight is what we strive for. We create moments that are novel, memorable, and will make you feel smart.
Our Track Record
Crafting experiences that are unique and memorable is our top priority. We play *a lot* of games and make sure that each of our creations has elements we've never seen before — games that can appeal to both new and experienced players.
We believe our record speaks for itself: we've been in business for over 4 years as escape room and puzzle designers and our average review rating is 5 stars on Google, Facebook, TripAdvisor, and Yelp!
Kauai Escape Room also won top 100 escape room in the world honors in 2019.
If you're more interested in how we're doing for this project specifically, check out the Society of Curiosities reviews on Trustpilot and Facebook.
We strive to make every experience delightful. Let us know if you have feedback.