The hunt for artists for our mystery in a box is almost as involved as the hunt for buried treasure!
Chapa | Map Illustration | @chapadibuja

We scoured the web to find a pen and ink artist that could bring our vision for the pirate map to life and found Chapa, an amazing artist from Buenos Aires. The details of his illustrations are stunning and the maps he made for our subscription mystery game were like he read our minds!
Chapa created hand drawn pirate maps for Quest for Captain Madok's treasure. It was important to us that the maps feel real – not like they were created in a digital medium – immersiveness in a game to us means we go that extra measure to get the details just right.
Instagram: @chapadibuja
Website: https://www.behance.net/GuztavChapa
---
Deanna | Calligrapher | @thedebonairequill

Capturing the right feel for a pirate's letter is tricky. We knew we wanted calligraphy and we knew we wanted real handwriting, not a font. Cue hours of searching talent websites and Instagram for the right fit.
Deanna's photographs of her calligraphy immediately captured us (check her out on Instagram – you'll love her work!) and in her examples, we found a style of handwriting that fit with our vision for Captain Madok's letters.
An unexpected challenge in working with an amazing calligrapher was that her work was too perfect. We had to ask Deanna to be less neat for this task. I bet she never had that request before!
---
David Coffin | Musician

We hope you loved David's song in the game! If you haven't played our immersive subscription box game, check it out here.
The initial research for puzzles had us listening to sea shanties for inspiration. When we heard David's song, we had goosebumps – it was the one! David is a musician, performer and educator with a baritone voice that will have you humming (our outright singing) his songs for days. What we wouldn't give to fly him out to Society headquarters and have a campfire sing along with him.
Website: www.davidcoffin.com
---
Tulin Oznur Tamturk | Editorial Designer
With backgrounds in web design and teaching digital media, we thought we would have the skills to layout a simple magazine article for our escape room box – but it just didn't feel quite right, so we enlisted the help of Tulin, a professional editorial designer.
She took our just-OK layout to something that looked like it could have been ripped from a real magazine.  Pure magic!  We believe it's those final touches that make the difference!
View Tulin's Portfolio
---
Jez Jones | Tattoo Artist | @jezjonesartist

When you see the work of Jez Jones in our subscription game, you'll know it's his!  We don't want to say too much about it to ruin the surprise.   
Jez is an Artist and Illustrator based in Lincoln, United Kingdom with experience in portraitre, tattoo design, book illustration, exhibition work, t-shirt design and website based illustrations.
Fun tidbit: Jez's first draft was beautiful and detailed – just stunning, but we had to have him pull back the skill to match the feel of the time period more. It's still more detailed than what was normal for the time, but we're betting there aren't too many pirate historians that will be upset by it.
Instagram: @jezjonesartist
Website: http://www.jezjones.co.uk
---
Kit Furderer | Couples Photographer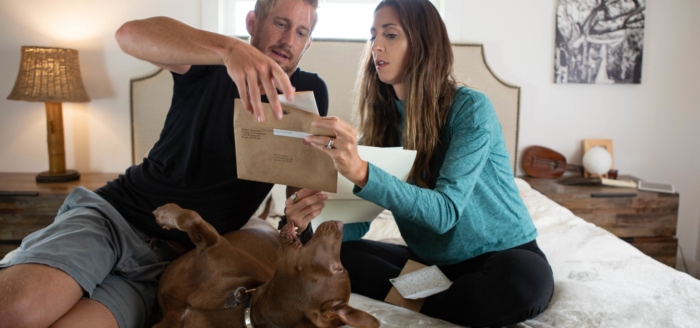 We wanted pictures that captured a couple playing the game subscription box BUT we couldn't do it in house because it was during the stay at home order with COVID 19. Kit immediately came to mind when we were brainstorming photographers we knew who might do a product shoot of our game in action because not only is his work amazing but he and his wife are adorable together (check out his pics – aren't they perfect?)