This quarters mystery in a box (letter this time!) is a hunt for pirate treasure! We've come up with drink, food and style suggestions for you to make and evening (or two) of your game.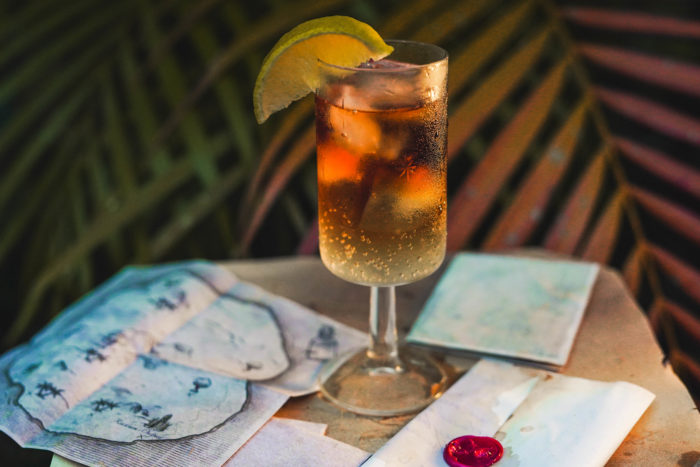 A Storm is Brewing!
In honor of the storm that stranded Captain Madok and his treasure, we bring you a simple, but tasty cocktail from Bermuda.
Lore tells that in 1806, a Gosling family member sailed from England towards Virginia. Unfortunately the sea was too still and he only made it as far as Bermuda, where he set up a distillery creating aged black rum.
Fast forward to after World War I to a Ginger Beer factory that was run by the Royal Naval Officer's Club. The ginger beer was used to combat sea sickness, but they found that a good splash local Gosling's Black Seal rum complimented it nicely.
When they mixed the two together, a sailor allegedly commented it looked like "the color of a cloud only a fool or a dead man would sail under."
Dark and Stormy
2 ounces Gosling's or any dark rum
5 ounces ginger beer
Lime wedge (optional)
Pour the rum over ice in highball and fill with ginger beer. Squeeze in the lime wedge.
Mocktail Version – Smooth Sailing
5 ounces ginger beer
Squeeze of Lime (optional)
Splash of coke (optional)
---
Attire Suggestions
We are going on a hunt for Pirate Treasure – the lost treasure of Captain Madok! Spice up your evening playing our solve a mystery game with a full out costume or a slight nod to the theme.
Tans, Creams and Green color scheme
Think Vintage Safari!
Break out your best pith helmet!
Vintage Adventure Inspiration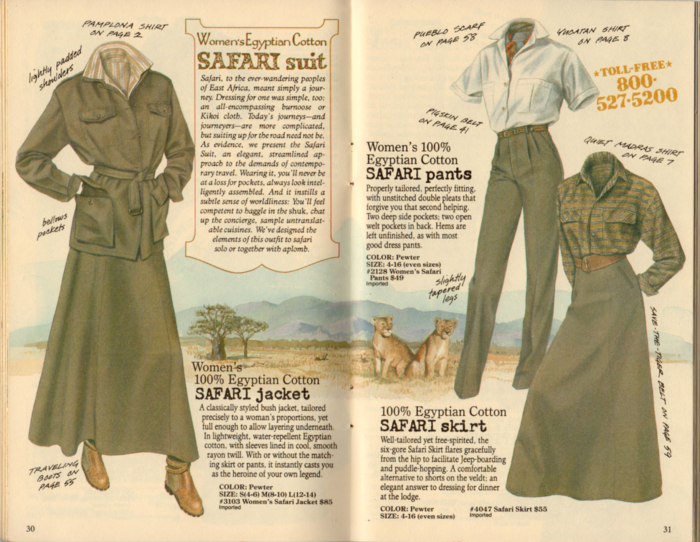 Our research led us to vintage clothing ads from Banana Republic. Did you know that they started off as as a travel and safari clothing company? You can binge on more pictures at this fun blog we came across: The Closet Historian.
We also loved seeing how M Gets Dressed created vintage adventure outfits! Check her out! She has a huge article with practical suggestions for dressing up for a vintage adventure!